Streamline patient care and empower staff across your organisation with secure, digital communication and collaboration
Our communication platform is helping both clinical and clerical staff deliver efficient, comfortable and personal patient care, as well as making vital information available to patients whenever, wherever.
VOCOLL is our proprietary digitally connected platform through which patients, their families and healthcare professionals can collaborate and communicate in a secure, discrete and personalised way.
Increase the efficiency of administrative staff and both consultant and nurse-led clinics.
Prioritise what really matters with digital tools that facilitate better care and happier care providers.
Digital capabilities that can accelerate your services into the digital world, to meet an ever changing and evolving care driven environment.
Enabling high levels of service quality and reliability, leading to outstanding patient-centred care for the NHS
Digitally mature capabilities
Provide digital decision support, remote
and assistive care.
VOCOLL can be implemented to enhance the delivery of patient care, by enabling digital triage and service allocation to optimise services where communication and accurate notification are paramount such as maternity, mental or sexual health.
Our customisable software also facilitates the notification of clinical staff from both local and out-reach services, of deteriorating patient conditions and early warning scores which require urgent review. All features are fully customisable and built to give you the flexibility to improve your services.
Remote or virtual assessment and triage is available for chronic or non-emergency treatment functions.
VOCOLL enables Healthcare professionals to contribute remotely to discussions about patient and service user care with colleagues outside their organisations
VOCOLL fully integrates with any website, intranet or patient self-service portal. The platform has been designed to improve and increase the efficiency and quality of remote consultations, transforming the way phone and virtual clinics are used by clinicians and viewed by patients.
Messages and documents. Messages and other correspondence, between a patient and their care team, including discharge summaries, outpatient letters and case notes can be stored in a record log, in support of the 'paperlight initiative.'
Other important patient information. Details of recorded allergies, current / repeat prescription medication.
Messaging (and video conferencing). Delivered via integration of the Vocoll suite.
Empower your patients and service users with digitally enhanced care
Drive the integration of patient care across your entire health and care ecosystem. By tightening communication and collaboration across your organisation, community care teams, patients and service users, you can drive greater efficiencies and optimise patient experience.
Fully customisable to support the requirements of any outpatient, inpatient, maternity or oncological speciality, as well as configuration and efficiency boosting abilities for administrative staff.
Empower patients to be a part of their own care through remote access to documentation and results. Enable teams across multiple services and treatment functions to collaborate in order to deliver high quality care all the way through from referral to discharge, regardless of where the patient goes on their clinical journey.
Provide them with remote access, anytime, anywhere.
Implementing new technologies requires notifying and supporting your patients and staff in adopting them.
VOCOLL can be implemented across your organisation as a support tool which can be used to help reduce calls to your support team, by fielding general questions related to new technologies. Specific questions can also be addressed in real-time by VOCOLL's messaging functionality, helping to connect colleagues and boost internal staff relations.
Connecting patients, teams and relevant patient information accurately, in real-time.
Ramp up your digital readiness
Provide patients and staff the means to diversify their use of digital services and improve their experience of your services.
Answer multiple queries and achieve more with less through multi channel communication. Free up resource time by providing automation to your workflows information management.
Simple to use and can be customised to your unique communication requirements, both intra and inter-department.
Provide an 'always on' Outpatient experience and declutter your administrative workforce with VOCOLL chatbot and knowledge base.
Make the transfer of information easier with better communication and collaboration between users, teams and third parties.
Power to categorise, prioritise and tackle issues.
Our commitment to the future of digital healthcare
Our future roadmap forms part of the broader vision of our parent company, VerseOne. VerseOne Health is dedicated to supporting the digitalisation of care across the NHS, with a focus on empowering patients and health care professionals with digital health technologies which support secure and tighter integration of care across the entire health and care network.
The VerseOne Patient Portal empowers patients as well as health and care professionals and service users, in securely accessing personalised information, in real-time, through full integration with the relevant parts of a patient's digital care system(s), such as an Electronic Patient Record (EPR).
Delivered via a web-based application, our solution empowers both patients and the team involved with the unique and often multidisciplinary care of a patient by creating a single point of contact to view the relevant aspects of a care record.
Full integration with pre-existing medical records, lab systems and document management systems, the VerseOne Patient Portal adapts and scales as your digital environment changes, fitting in with mulitple digital systems and complimenting non-digital workflows and processes.
It offers some of the following core features
It offers some of the following core features:
Digital Appointments is next in line functionality. Patients can view their appointment letters, confirm attendance or request to reschedule, (receive reminder texts) and add appointments to their personal calendar.
Help and advice materials. View location information and other clinic information, which may include leaflets and videos.
Test Results. View laboratory and radiology results such as blood tests and x-ray reports.
Vocoll is proud to be a Microsoft partner allowing integration with Azure and the full Microsoft suite of products.
Vocoll is not an isolated solution
Vocoll is not an isolated solution to fit a current need. It is designed to be future proof and to grow and adapt with your digital ecosystem.
To help with digtal maturity, Vocoll is part of our Digital Innovation Hub, which allows you to communicate and connect information across all of your back end systems, and turn it into personlised and useful content.
This gives you full control of your content to enable better communication and engagement both internally and externally.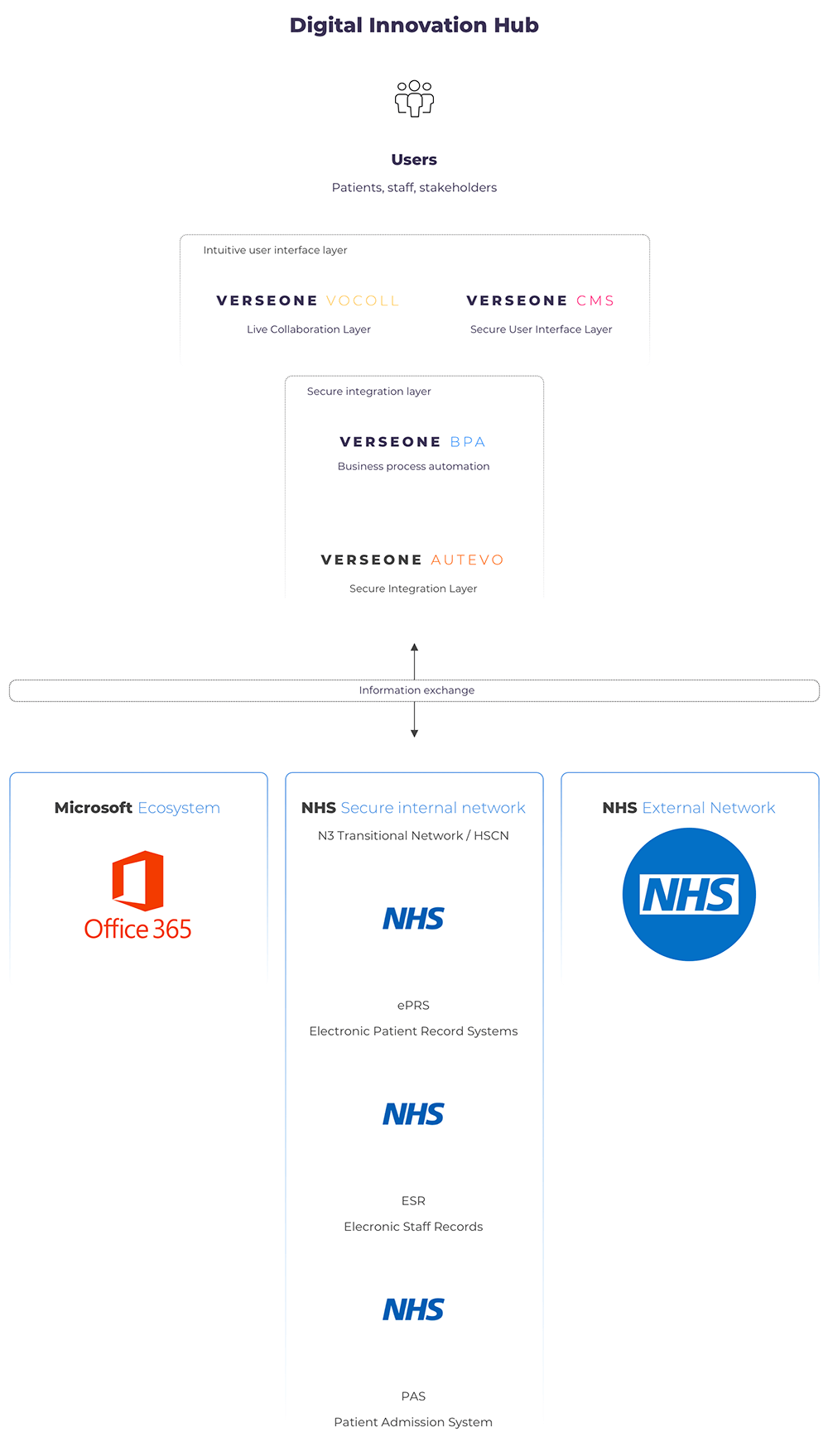 Request a demo and see how Vocoll can help you and your team.
Get in touch and we will work around your busy schedule and show you all you need to know on how Vocoll can help improve your customer service and experience.
Vocoll is part of a multiple award-winning, market-leading platform and service provider VerseOne Group, which is made up of VerseOne Technologies and Firebox Digital.